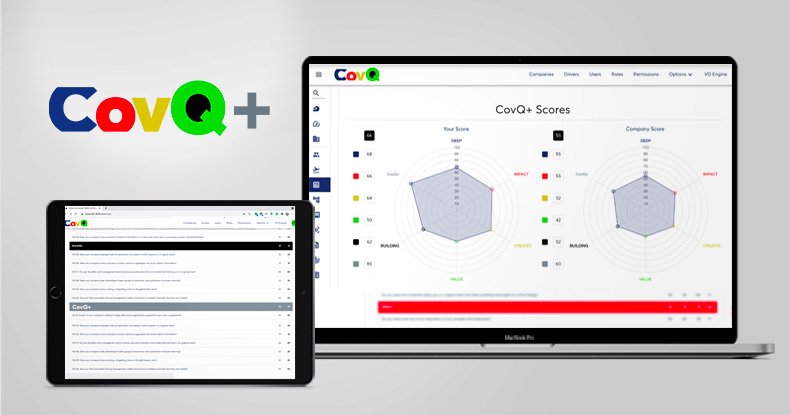 The Value Creation OS CovQ (Compound Value Creator Quotient) has been amplified by the new module CovQ+ allowing forward-thinking management teams and partners to develop customized value drivers, which can be added to the CovQ Assessment's 60 core value drivers in order to address a company's, business units' or functions' specific needs, domain uniqueness, data sources and competencies. The value creation OS CovQ encompasses a corporate IQ assessment system, a framework, method and knowledge for digital strategy management and team collaboration and alignment. 
CovQ+ redefines how businesses assess and enhance their value creation potential by offering a unique blend of precision, adaptability, and customization.

Tailored Excellence for Optimal Impact
CovQ+ serves as a unique functionality that enables clients to augment the CovQ Core corporate IQ assessment and framework and benchmark data with customized value drivers that resonate deeply with their distinct business ecosystem. In conjunction with CovQ Core, through CovQ+, clients can now craft additional value drivers into the assessment model that aligns perfectly with their most specific goals, strategies, industry, and current business phase. This tailored approach unlocks explicit, highly specific, previously untapped avenues for value creation, growth and innovation, cost savings, allowing businesses to stand out in their competitive landscape and create stakeholder value.

Synthesis of Core Benchmarks and Custom Vision
CovQ+ seamlessly integrates the unique CovQ best-practices derived from CovQ Core with the client's tailored value drivers, creating an unparalleled fusion of best practices and bespoke insights. Clients can confidently benchmark their performance and establish a solid foundation for strategic decision-making, strategic planning, strategy tracking and reporting. This synthesis embodies a robust methodological underpinning, assuring clients actionable insights and producing reliable results.

Maximizing Differentiation Through Customization
Incorporating CovQ+ into the company's value creation strategies can mean taking a quantum leap in differentiation. Businesses can spotlight their unique strengths and address their specific challenges by crafting value drivers that embody their ethos. This level of customization empowers companies to showcase their distinctive value proposition, enhancing their position in the market.

Driving Strategic Decisions with Precision to Execution
Operating within a best practice framework bolstered by CovQ Core and enriched by CovQ+, businesses gain unparalleled insights into their value creation capabilities. This holistic view aids in identifying untapped potential and strategic avenues for growth. CovQ+ transforms complex situations into actionable intelligence, steering businesses towards optimal decision-making and subsequently strategy development, planning and successful, ongoing execution.
CovQ Testimonials / Case Studies


For inquiries, demonstrations, and more information about the Value Creation OS CovQ and CovQ+ please contact us: value [@] 8W8.com. www.8W8.com