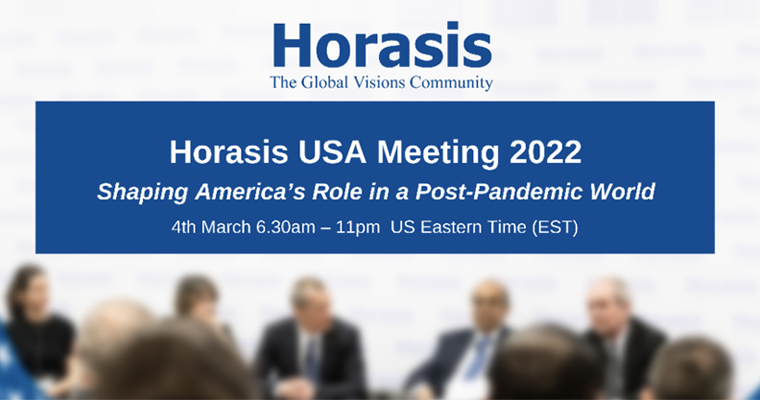 Virtual Event, 4 March
2022 06.30 – 23.00 US Eastern Time
Shaping America's Role in a Post-Pandemic World
On March 04, 2022, at the virtual Horasis USA Meeting, 8W8 Global Business Builders' CEO, Ralf Hirt, will be chairing the panel 'What is the IQ of your company? Measure, Develop, Apply, Evolve, Repeat' with five highly accomplished speakers. Companies are poised to deliver exponential growth to defend their market position, increase their market share as well as valuations and please all stakeholders, whether these are shareholders, investors, clients, employees, laws, ecosystem rules, UN Sustainable Development Goals. Scaling up is when the rubber hits the road and theories meet practice. Ongoing value creation is the key to delivering on a firm's purpose and mission. How can companies assess, develop and apply their IQs to make things happen, track their progress, and evolve to keep winning?
Horasis is a global visions community committed to inspiring our future. In the 15 years of its existence, Horasis' summits have become some of the most influential high-level global gatherings which every year bring together governments, international organizations, and the business community to offer solutions to global challenges. In addition to the Horasis Global Meeting, Horasis hosts regional summits with a focus on the USA, China, India, and South East Asia.


Confirmed Panelists

Chief Executive Officer with 20+ years' dramatically growing revenue and profit in digital media, subscriptions, and e-commerce. A motivational leader with full decision-making and P&L ownership. Deep experience in M&A, turnarounds, scaling operations, and growing post-startup phase. Management Professor at Columbia. MBA from The Wharton School. David is the author of 'Decide & Conquer – 44 Decisions that will Make or Break all Leaders'.
Linkedin: https://www.linkedin.com/in/davidmsiegel/
Twitter: https://twitter.com/Davidmeirsiegel



I'm a journalist, analyst, author, and founder. I've raised angel and VC funds, chronicled the rise of the mobile economy, and I'm the CEO of $SMRT, a creator coin on Rally.io. I write for Forbes, host several video podcasts including TechFirst with John Koetsier, and consult with tech companies. I was TUNE's mobile economist and Singular's VP of Insights, built the research team at VentureBeat, and managed teams creating software for partners like Intel and Disney. In addition, I've led web development teams, built social sites and mobile apps, and consulted on mobile, social, and IoT projects. In 2014, I was named to Folio's top 100 of the media industry's "most innovative entrepreneurs and market shaker-uppers."
Linkedin: https://www.linkedin.com/in/johnkoetsier/
Twitter: https://twitter.com/johnkoetsier



Katja Kempe is CEO of Viveka, a bestselling author and passionate about human potential. Katja was awarded Female Entrepreneur of the year Asia-Pacific, and nominated as one of the '21top founders to change the way we do business in 2021′ by Yahoo Finance, alongside Elon Musk and the founders of Stripe, Bumble and Canva. Katja is internationally experienced, multilingual, inspired by innovation and a strong believer in creating positive and sustainable change.
Linkedin: https://www.linkedin.com/in/katjakempe/
Twiiter: https://www.instagram.com/katjakempe/



Matt is the founder and CEO of Bolster, a new talent marketplace for on-demand executives launched in 2020. Matt was Chairman & CEO of Return Path, Inc., the company he founded in 1999, until its sale to Validity, Inc. in 2019. Return Path is the market leader in email optimization, helping thousands of businesses use the email channel more effectively to promote and protect their brands and winning numerous employer of choice awards including #2 on Fortune Magazine's "Best Companies to Work for" list. Prior to founding Return Path, Matt was General Manager of the Internet division of MovieFone, Inc. (777-FILM) until the company's acquisition by AOL, and had previously worked in venture capital and management consulting. Matt is the author of Startup CEO, Startup CXO, and Startup Boards.
Linkedin: https://www.linkedin.com/in/blumbergmatt/
Twitter: https://twitter.com/mattblumberg


Naomi Kent is a seasoned advisor and leader, who has a background in sales and customer retention across a wide variety of industries internationally. Naomi serves
as the President of North America at In Touch Networks, which brings together various groups of the world's most powerful Executives and Board Members in a series of
online business communities. In Touch, Networks is the ideal place to build a visible profile and place your services and products in front of senior decision-makers.
Linkedin: https://www.linkedin.com/in/naomikent/
Twitter: https://twitter.com/naomikent


Chaired by

Ralf Hirt, launched 8W8 Global Business Builders to deliver on his vision to empower founders and business owners to deliver the full potential of their purposes and therefore developed the Compound Value Creator Quotient platform 'CovQ'. Ralf has accumulated extensive experience throughout a diverse career encompassing volatile phases in the tech, marketing, and commerce industries. He held operational executive positions (CXO, MD, VP) around the world including Hong Kong, Sydney, London, Munich. Last but not least he relocated with DoubleClick (acquired by Google) from Asia to New York City, where he has resided since 2005. In other roles, he drove growth for tech companies such as Harri, TUNE (acquired by Constellation Software), MODE and fit CRM (acquired by Omnicom) as well as advising Prion Group from inception to the successful sale to Accenture.
Linkedin: https://www.linkedin.com/in/ralfhirt/
Twiiter: https://www.twitter.com/ralfhirt
Instagram: https://www.instagram.com/covq.ai/


---
If you like to learn more about the virtual Horasis USA Meeting and like to register please visit: Horasis