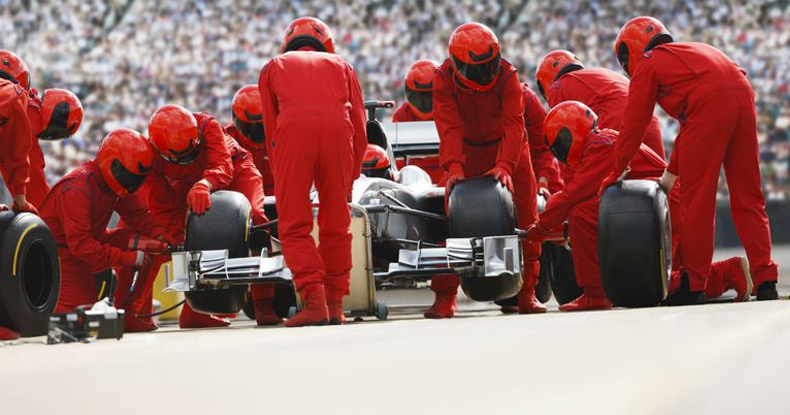 It all starts from the top. We all know that people, culture, and communication are at the heart of a business's success and therefore ongoing strategy execution. Without great alignment at and from the top companies can not deliver their full potentials, however, how is alignment actually measured and systematically developed? The answer is it is not. It is mostly gut feel because there are not any integrated solutions that exist; hence we developed the CovQ Factor of Executive Alignment.
We initially built the Compound Value Creator Quotient platform, aka CovQ, starting with an assessment that determines a company's qualities and potential with respect to value creation. It is taken by the executive team/board who score sixty value drivers. The CovQ Score reflects the IQ of a company in the five segments: DEEP, IMPACT, CREATES, VALUE, BUILDING. The result details can be put into action by applying data-driven strategic decision-making to define mission-critical priorities and dynamically evolve or transform on an ongoing basis. This process can be managed in the CovQ platform from A – Z.
In order to create an environment which empowers the perfect delivery of the planned strategic initiatives and desired outcomes, the first necessary first step is to actually measure and create a maximum alignment at the board, executive, and management team levels. The CovQ Assessment provides these data points in the form of value drivers and measures the alignment and misalignment of the participants relative to the CovQ Score in total, per segment, and on every single value driver level. This allows us to calculate the CovQ Factor of Executive Alignment in detail. Therefore, leadership can now define priorities and strategies to improve and develop alignments, ensuring the company is marching in the desired direction. This process can be managed in the CovQ platform so that maximum alignment is being created, managed, shared, and measured again.
Which companies must know their CovQ Factor?
Every ambitious and forward-thinking company should have this important data and in particular those in the phases below.
Scenario A – Change Urgency
In times when management needs to act immediately: underperformance, dramatic changes in the market, new regulations and laws, crises, or technology substitutions are all situations that require taking ownership and developing winning strategies quickly. In order to put those into action and get broad and deep buy-in, alignment must be a top priority and is an essential necessity.
Scenario B – New Leadership, New Ownership
If there is a new leader, leadership team, or owner the CovQ Factor of Exec Alignment quickly creates visibility into the status quo of alignment, which allows immediate development of strategies to set the right focus and communicate with the goal of building and fostering alignment.
Scenario C – Smooth Sailing
Many companies are doing ok or feel that they are doing pretty much as well as they could. In this case, the CovC Factor of Exec Alignment might be relatively high, however, it may deteriorate over time as there is some form of complacency, lack of focus, and alignment may suffer over time. It is important to understand this as early in the process as possible and act.
Scenario D – Strong Growth Ambition / High-Performance Businesses 

In order to deliver strong growth, win market share, outperform the competition, stay always ahead of the curve and attract the best talent and investors the management team must be completely aligned. Therefore it is absolutely necessary, that alignment is understood, measured, monitored, and developed on an ongoing and proactive basis.
Key benefits
Data-driven, pro-active exec alignment management, monitoring, reporting
Quick, decentral, remote, instant, inexpensive, actionable, systematic
Free alignment building from gut feel
Team-building, collaborative and repeatable
Stand-alone or integrated with the CovQ management system
How do I get started?
Contact the CovQ team and we will set up your account, support your communication, and share feedback and input on the results: value [@] 8W8.com.
CovQ Score Value Driver Evolvement per Quarterly CovQ Interval: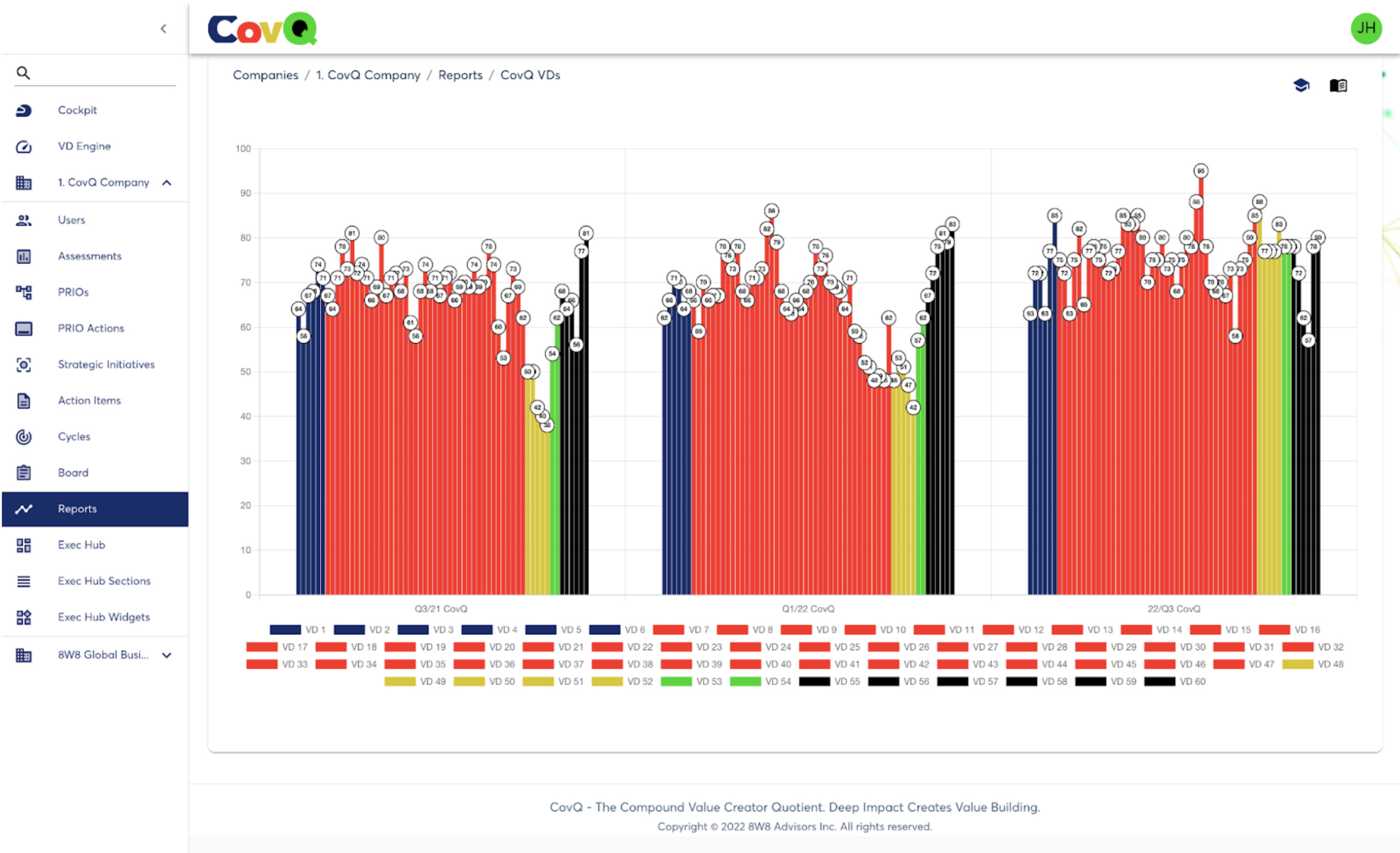 CovQ Factor of Executive Alignment and Upside: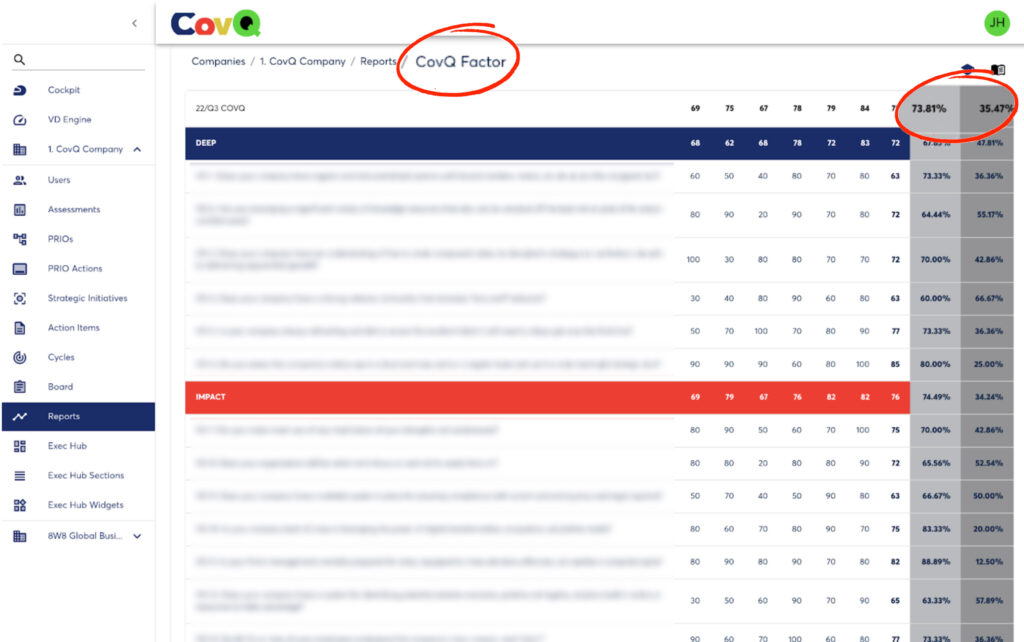 CovQ Reports Dashboard for Data-driven Value Creation Management: