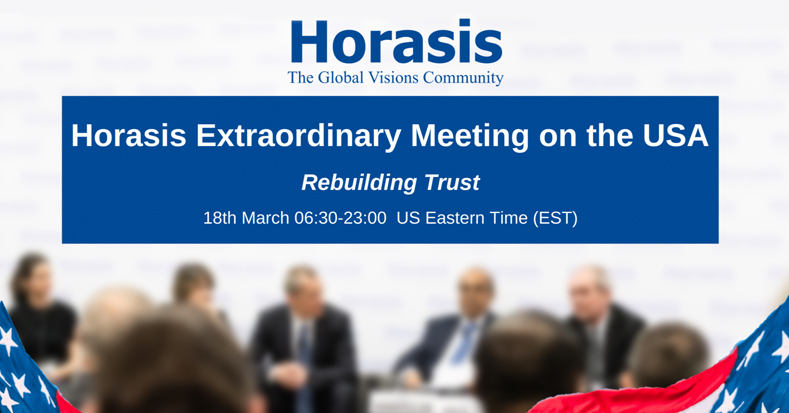 On March 18, 2021, at the digital all-day Horasis Extraordinary Meeting on the USA – Rebuilding Trust, 8W8 Global Business Builders' CEO, Ralf Hirt, will be chairing the panel 'How to Deliver the Full Potential? Growth, Value Creation, Outcomes' with five highly accomplished speakers.
The Horasis Extraordinary Meeting is the world's foremost gathering of business leaders who interact with key government officials and eminent thought leaders.
Under the theme Rebuilding Trust, 1000 of the most senior members of the Horasis Visions Community are offered the opportunity to interact with the new US administration to shape America's and the world's agenda.
Panelists from America and the rest of the world will explore novel business models, frontier thinking, sustainable investment, and political cooperation with the goal of rebuilding trust and to create actionable plans for the future.
How can we address the breakdown in social cohesion and promote inclusivity as well as gender equality? How can we kickstart the global and the US economy and simultaneously promote reform? Can we tackle the lingering ecological crisis with a New Green Deal? And how can the USA provide leadership in an emerging multilateral world?
March 18, 2021, 10.15-11.00 am US Eastern Time
How to Deliver the Full Potential? Growth, Value Creation, Outcomes
Business is about creating stakeholder value above and beyond competitors' performance. While all companies and investors aim for this only a small percentage manages to deliver the full potentials of their enterprises. What are the challenges with scaling up and transforming in times of endless opportunities? What methods, skills, and tools enable ongoing success?

Chris Cunningham is a 20-year media and tech veteran who is a serial entrepreneur turned early-stage venture capitalist. As an angel investor Chris invested in 18 tech start-ups, four have sold for cash and others like Petal, Journy, Narrative, Embrace and Bloom Credit continue to increase in value. Chris recently launched a $10M early-stage venture fund to scale the C2V brand and invest in more companies. C2V's current portfolio includes Beam, Rens, Magallan AI, Paladin, Tarform, Civ Robotics, and boostr. Chris is also an LP in both Bowery Capital and Tech Stars. He also held executive and leadership roles at both Unacast and Ironsource, a now $2B privately held mobile technology company that recently sold a $500MM cash stake to private equity.

Linkedin: https://www.linkedin.com/in/cunninghamchrisc2/
Twitter: https://www.twitter.com/C2cunningham

Ryan Denehy is a 3x entrepreneur and the Founder and CEO of Electric. Having experienced the pain and frustrations that many business owners encounter in managing their IT infrastructure and support needs, Ryan's light bulb idea to create a cloud-based, real-time, 24-7 IT Support ecosystem laid the foundation for Electric's vision to redefine IT Support for a new generation.

Linkedin: https://www.linkedin.com/in/ryandenehy/
Twitter: https://www.twitter.com/DenehyXXL

Renita Kalhorn is an executive coach who's worked with 1,000+ high-performers in 40+ countries, from Fortune 500 executives to serial entrepreneurs and start-up founders. She specializes in working with entrepreneurs in deep/high tech and military Special Forces teams to level up their leadership in complex, uncertain environments.
Renita has lived and worked in the US, Asia, and Europe, delivering leadership and development programs for multinational clients such as Deutsche Bank, Pfizer and AstraZeneca and start-up communities at General Assembly, WeWork and NUMA. Earlier in her career, Renita spent 15 years in management and business development roles at online healthcare, new media and technology companies. Renita frequently provides insights on leadership and high performance, writing for Forbes

Linkedin: https://www.linkedin.com/in/renitakalhorn/
Twitter: https://www.twitter.com/RenitaKalhorn

Michael Rubenstein is an entrepreneur and executive who played a key role in building two of New York's most iconic tech companies: AppNexus, acquired by AT&T in 2018, and DoubleClick, acquired by Google in 2008. One of today's trailblazers operating at the intersection of digital
advertising/marketing/media/commerce, Michael is passionate about bringing powerful ideas to life and building innovative, inclusive, values-driven company cultures. He specializes in marketplace strategy, internet business models, win-win partnerships, developing talent, and building high-performing go-to-market organizations that create global impact.

Linkedin: https://www.linkedin.com/in/mrubenstein99/
Twitter: https://www.twitter.com/mrubenstein99

Navin Thukkaram is a technology investor and entrepreneur. He was previously Chief Operating Officer, Board member, and seed round investor of Qwiki, a New York-based mobile technology company acquired by Yahoo! for a reported $50 million. Thukkaram is an angel investor in several technology companies. Previously, Mr. Thukkaram was Directorand the #2 investment professional of Vulcan Capital Private Equity, the private equity firm owned by Microsoft co-founder, Paul G. Allen. At Vulcan, Mr. Thukkaram served on the boards of Vulcan Energy Corporation (General Partner of Plains All American Pipeline, L.P. (NYSE: PAA), a $15BN public company) and Vulcan Resources Florida.

Linkedin: https://www.linkedin.com/in/navinthukkaram/
Twitter: https://www.twitter.com/NavinThukkaram


Chaired by

Ralf Hirt, launched 8W8 Global Business Builders to deliver on his vision to empower founders and business owners to deliver the full potential of their purposes and create compound value. Ralf has accumulated extensive experience throughout a diverse career encompassing volatile phases in the tech, marketing and commerce industries. He held operational executive positions (CXO, MD, VP) around the world including Hong Kong / China, Sydney / Australia, London / UK, Munich / Germany. Last but not least he relocated with DoubleClick (acquired by Google) from Asia to New York City, where he has resided since 2005. In other roles, he drove growth for tech companies such as Harri, TUNE (acquired by Constellation Software), MODE and fit CRM (acquired by Omnicom) as well as advising Prion Group from inception to the successful sale to Accenture.

Linkedin: https://www.linkedin.com/in/ralfhirt/
Twitter: https://www.twitter.com/ralfhirt
---
Tickets for the entire event can be bought @ US$ 195 on https://www.runtheworld.today/app/c/HorasisExtraordinaryMeetingontheUSA 
---
UPDATE: You can watch the full meeting video at https://www.8w8.com/how-to-deliver-the-full-potential-horasis-extraordinary-meeting-on-the-usa-18-march-2021/