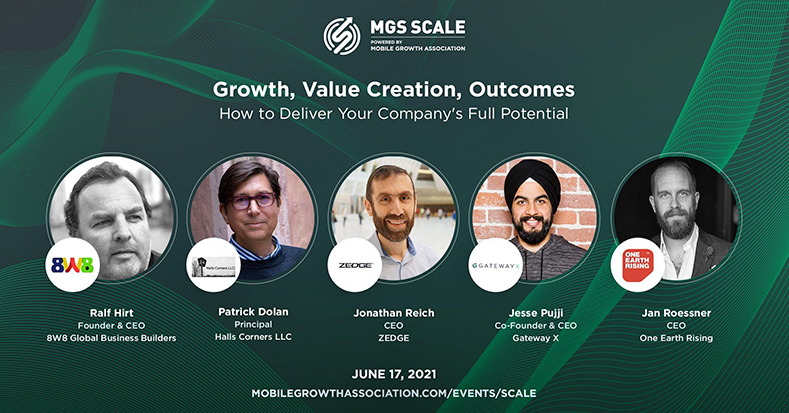 June 17 5:05 PM – 5:50 PM CDT / 6:05 PM – 6:50 PM CET)
Growth, Value Creation, Outcomes: How to Deliver Your Company's Full Potential
Business is about creating stakeholder value above and beyond competitors' performance. While all companies and investors aim for this only a small percentage manages to deliver the full potential of their enterprises. What are the challenges with scaling up and transforming in times of endless opportunities? In this session, learn about the methods, skills, and tools that enable ongoing success and understand how to evaluate options to develop executable strategies and milestones.

Moderated by

Ralf Hirt, launched 8W8 Global Business Builders to deliver on his vision to empower founders and business owners to deliver the full potential of their purposes and create compound value. Ralf has accumulated extensive experience throughout a diverse career encompassing volatile phases in the tech, marketing and commerce industries. He held operational executive positions (CXO, MD, VP) around the world including Hong Kong / China, Sydney / Australia, London / UK, Munich / Germany. Last but not least he relocated with DoubleClick (acquired by Google) from Asia to New York City, where he has resided since 2005. In other roles, he drove growth for tech companies such as Harri, TUNE (acquired by Constellation Software), MODE and fit CRM (acquired by Omnicom) as well as advising Prion Group from inception to the successful sale to Accenture.

Linkedin: https://www.linkedin.com/in/ralfhirt/


Confirmed Panelists
Patrick Dolan is an accomplished Chief Operations Officer and Media Executive with 25+ years' experience driving overarching organizational strategy, operational excellence, and product development across international trade organizations and corporate environments. He elevates mission-driven strategy and operational innovation aligned with a data-driven approach that drives market advancement and ignites performance excellence. Mr. Dolan champions an entrepreneurial mindset with a collaborative leadership approach across multidisciplinary teams and executive leadership to drive organizational achievement.
Linkedin: https://www.linkedin.com/in/patricksdolan/

Gateway X is a holding company that builds, buys and invests in market-leading DTC (direct to consumer) companies. Our purpose is to help people learn, grow and be the best versions of themselves through the journey of entrepreneurship. We value being fast, data-driven, customer centric and adaptable in our approach. We are committed to building one of the most important companies in the DTC revolution. We will be a profitable, long-term organization with an extraordinary culture and several unique winning brands. Founded in 2021, Gateway X is proudly based in St. Louis, MO and will embrace a hybrid office/remote work approach.
Linkedin: https://www.linkedin.com/in/jspujji/

Jonathan is an Internet entrepreneur with a proven track record of scaling hi-tech, telecom and media ventures with disruptive technologies transforming them into established category leaders. With 20 years of international experience in operations and finance, Jonathan is a creative and strategic thinker with a penchant for sales, marketing, business and corporate development, financial and commercial operations, and strategy.
Linkedin: https://www.linkedin.com/in/jonathanreich/




Jan leads our management team and our investor relations. Over the last seven years, Jan has successfully launched six video games on the PlayStation, Xbox and Nintendo Switch.
Jan's management experience comes from running start-ups and agencies. It also includes leading operations for the German military in a helicopter squadron.
Jan's passion for promoting social advocacy within computer games drives the vision for One Earth Rising.
Linkedin: https://www.linkedin.com/in/janroessner/


---

Conference Details: https://www.mobilegrowthassociation.com/events/scale