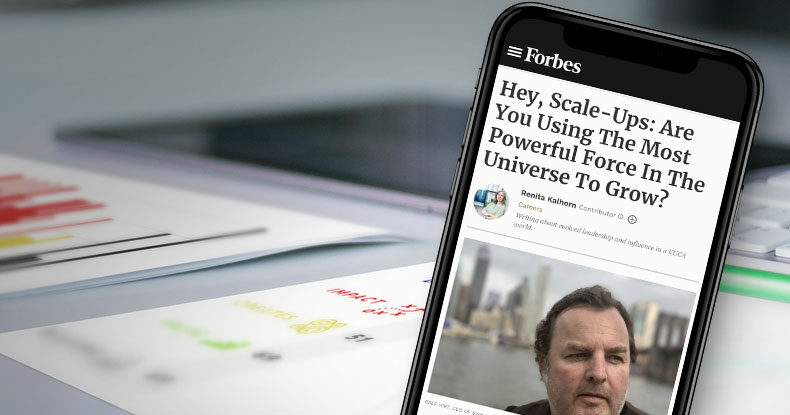 Never before have founders had so much access to capital to build their dream companies.
Crunchbase reports that the last decade has seen about $1.5 trillion of venture capital worldwide, with almost $300 billion of that invested in 32,800 venture capital deals in the last year alone.
Typically, investors play the game of aggregated numbers, investing in dozens of companies and hoping that one or two will hit it big.
For founders, however, it's a riskier game: they're betting on one horse as opposed to a stable. And very few — 490 companies as of October 2020 — become a so-called unicorn valued at more than $1 billion.
Of course, becoming a unicorn is not the only benchmark of success.
Still, there's a wide gap between the number of companies that are able to successfully scale and those that plateau or peter out.
That gap represents a huge missed opportunity.
Because, according to Ralf Hirt, CEO and founder of 8W8 Global Business Builders, the difference between the scale-ups that progress past the initial growth stage and those that don't isn't simply a matter of raw intelligence, expertise and resources.
It's how they initiate and manage the process of value creation.
I spoke with Ralf about the Compound value creator Quotient (CovQ), the comprehensive assessment framework he's developed to help companies navigate the myriad of complex decisions that impact their chances of success.
Renita: So this CovQ assessment sounds intriguing — what is it exactly?
Ralf: Well, Albert Einstein said, "The most powerful force in the universe is compound interest,"' and I thought, why don't we use this concept more intentionally in business. Too many leaders are taking an ad hoc approach to building their business — their focus is scattered and so their actions don't compound and build upon one another.
So we gathered input and insights from some 80 entrepreneurs, executives, investors and business professors in 12 countries. We used them to develop an assessment framework that could diagnose companies' strengths and weaknesses — in terms of their strategy, execution and ecosystem, for example — and provide specific insights to access the full potential of their businesses.
Renita: What are some common pitfalls you've seen with scale-ups?
Ralf: First of all, let's recognize that it's not easy to scale a company. There are so many opportunities for growth and startup founders usually want to take advantage of all of them!
At the same time, they often lack experience and discipline, so they're not following through on important initiatives as they're scaling. Do they have the right people in place for the next phase? Will their financial model scale to maintain their growth rate? When and how do they approach international expansion? Success is a matter of identifying where the opportunities for leverage are and then staying laser focused.
Renita: In your opinion, what are the differences between a founder who's seen as exceptional and one who's just average?
Ralf: This is where I see so much opportunity, Renita. I referenced a CB Insights tweet the other day, which said that VC websites always state they team up with exceptional founders. But what about the average and mediocre founders — who is supporting them?
For me, it's not about labeling someone exceptional or mediocre — there are plenty of brilliant founders who fail. It's about optimizing someone's ability to identify and manage the process of value creation.
Renita: I like that, it's a question of having a growth mindset rather than a given set of skills. So how does the CovQ approach work?
Ralf: Well, based on the answers to 60 questions, the CovQ assessment generates a CovQ score and pinpoints where the company stands in five areas: sustainable growth, strategic impact, team and execution, communications and continuous learning. For those who want to translate that score into action, we offer support in creating a strategic and systematic approach to value creation.
Renita: Who should take the CovQ assessment?
Ralf: I'd say the assessment is for any company that has achieved product-market fit and wants greater clarity on what they need to improve in order to scale, evolve or transform.
You know, I heard Pulitzer Prize winner Thomas Friedman say something interesting at the DLD Live Tel Aviv virtual conference earlier this month: 'The world is flatter than ever. The world is more fragile than ever.'
That clarity will be the key to executing with speed and agility in a world that is increasingly fragile and VUCA (volatile, uncertain, complex and ambiguous).
Renita: Do you have examples of how this clarity helps companies in their value creation process?
Ralf: Absolutely. Nordic Oil is a leading CBD oil and cosmetics brand operating in Europe, the US and China. Taking the CovQ assessment showed them that, with the pandemic, they needed to reduce their dependence on suppliers. They made the strategic decision to bring processing and packaging of all key lines in-house, which not only reduced risk but also increased the gross margin.
Another example: the founders of quantilope, a consumer insights SaaS company, took the CovQ assessment the same month they completed a $28 million Series B investment round. The results highlighted an opportunity to generate substantial revenue streams adjacent to their core business that they hadn't been taking advantage of. They decided to prioritize this specific strategic initiative, assigned responsibilities and resources, and kicked off the innovation process.
Renita: Got it. So it's almost like a heat-map that shows you exactly where the opportunities for growth or improvement are and what to prioritize.
Ralf: Exactly. That clarity is the key to breaking through plateaus and driving the process of continuous value creation.