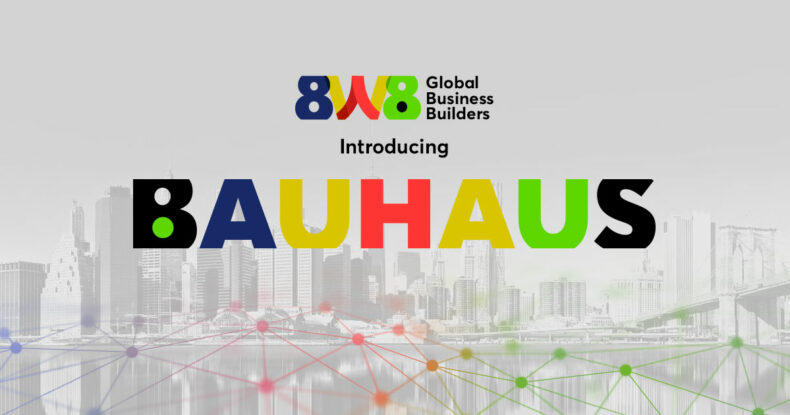 The last three-plus Coronavirus months have been challenging in one way or another for almost all of us. I mentioned in my post 'Never waste a crisis' back at the beginning that I am going to 'walk the walk' and will be 'doubling down' on myself empowering others.
Since then I have been in the zone and distilled my business life. I have tried to grab the crisis by its horns (yeah crisis have horns, too) to come up with something really meaningful and what I am passionate about: The result is that I am kicking off the Bauhaus platform by 8W8 Global Business Builders in order to empower founders and business owners to deliver the full potential of their enterprises and create compound value. The reason that this was possible in a relatively short time was that I locked myself away for more than hundred consecutive, long days into my office and also reached out to eighty or so friends and business partners, who provided me valuable input, gave feedback, challenged my ideas, and sparred with me on my 'go-to-market.' A huge thank you to each of them in more than a dozen countries.
The tech ecosystems are not short of ideas, entrepreneurs, incubators, investors, accelerators, angels, VC's and more, but why is it that far too many companies do not make it over the finish line or simply plateau? The main reason is that there is something missing: a business building platform encompassing a method, a framework, know-how, specialists and experts to ensure that strategies are clear, compounding and followed-through; ongoing strategy execution is a necessary lifetime task to deliver the full potential of the enterprise.
Now, 8W8 Global Business Builders is introducing the Bauhaus platform exactly addressing this including partnering with founders, coaching, supervising, orchestrating and mentoring them throughout the entire journey of business building.
If you would like to learn more about it you will enjoy 8W8.com and please follow us on LinkedIn and Twitter, subscribe to our infrequent newsletter, or simply swing by our knowledge center from time to time.
Other than this, I have just completed NYU Stern Marketing Professor and bestseller author Scott Galloway's, aka Prof G, Strategy Sprint, and learned how to apply the T-Algorithm (TA = Trillion $ market cap builder Algorithm) and extended the book '8W8 – Global Space Tribes' I authored by three more chapters touching on the latest new realities (Summer 2020 Extended Edition).
I almost forgot: DEEP | IMPACT | CREATES | VALUE | BUILDING are the names of the five modules of the Bauhaus platform composed of a thrilling set of practices and tactics.
Exciting times indeed.
Back to work. Developing more content now and finalizing CovQ — The Compound Value Creator Quotient of an enterprise. CovQ rocks. Do you know your CovQ?